Fit for Framing?
Instacanvas reformats Instagram photos into large-scale art to be hung in buyers' homes.
Monday, May 21, 2012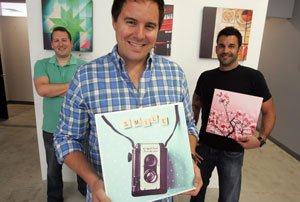 Canvaspop in Ottawa, Ontario, also allows people to print their own Instagram photos for the same price as Instacanvas. However, Canvaspop's service is intended for personal use, not for sale to other people. The company also offers personal prints from other social networking sites, and handles design and printing in-house.
Adrian Salamunovic, Canvaspop's founder and chief executive, said his company was the first to offer Instagram prints, doing so in November. Still, Salamunovic likes Instacanvas, calling it "a cool spin on what we already do."
But, he said he thinks Instacanvas is overly dependent on Instagram, noting that it's "building an entire company off the back of another company."
He points out that if Instagram changes the software and data settings that allow Instacanvas to access images, the startup "could be almost obsolete."
Munson acknowledged that if Instagram blocked downloads from its site, "it would be a point of destruction." But he called that potential pretty unlikely. He compared Instagram to sites like Twitter and Facebook and the way they allow other businesses to build compatible sites such as Tweetdeck, which helps users manage their social networking accounts.
"Instagram's interest is to build successful ecosystems," he said. "What we're building is a dynamic and engaged group of photographers."
Munson sees Instacanvas eventually expanding to offer photo sharing and sales from other social networking sites.
Patrick Bates at San Francisco company Mosy Mount, which specializes in iPhone tripods, calls Instacanvas a fun, novel idea. But for Instagram artists like him, he said the site doesn't provide enough income.
"You can't make any real money off of it," Bates said.
Instacanvas is now looking for investors.
"There's a number of companies building in the Instagram ecosystem," Munson said. "We're the first to create a marketplace."
Prev Next