Fit for Framing?
Instacanvas reformats Instagram photos into large-scale art to be hung in buyers' homes.
Monday, May 21, 2012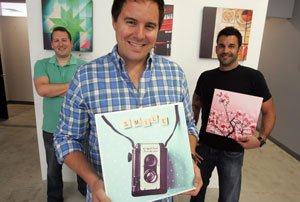 In a little more than a year, San Francisco's Instagram rose from obscurity to become a photo-sharing service used by 30 million people. It was recently scooped up by Facebook for a surprising $1 billion in cash.
Attempting to piggyback on that success, Santa Monica startup Instacanvas is a marketplace for buying and selling Instagram photography. People can use the service to turn Instagram art into canvases suitable for framing for as low as $39.95.
Instacanvas was co-founded by Matt Munson, Todd Emaus, Steve Bull and Kevin Fremon in late February. The quartet wanted to find a way to buy Instagram pictures to hang in their homes. Munson, the company's chief executive, said he believes people can find better photos on Instagram than what's now on display at their homes.
"The underlying vision is that the artwork you see online is more beautiful than you see on your walls," said Munson.
Instacanvas allows Instagram photographers to sell their photos in online galleries. Photos of families and friends are the most popular subjects. Other top sellers are landscapes and shots of graffiti.
Anyone can buy the prints; artists pocket 20 percent of proceeds. Buyers can choose from works by about 37,000 artists who have signed up with Instacanvas. The Santa Monica company said it averages about 30 to 40 sales a day.
Technology is key to Instacanvas: In order to blow up the tiny digital photos with enough resolution that they can hang on a wall, the company has developed proprietary programs to boost pixel count.
Instacanvas contracts with a California company for printing. Buyers can order three sizes of canvas prints for $39.95, $59.95 and $79.95.
Emaus, the company's chief marketing officer, said the team members first tested the site by posting a message and link to the new company on their Instagram accounts.
"We set up a really basic web page to see if other people on Instagram were interested in selling their art," Emaus said. "Over the course of the weekend we had 5,000 or 6,000 people sign up."
Today the site has a monthly audience of more than 1 million visitors.
Prior to launching Instacanvas, Munson and Emaus had worked together at tech companies in Los Angeles. The Michigan natives first met at an Ann Arbor fundraiser and clicked over their mutual love for technology.
Getting on board
Several other companies are attempting to capitalize on the success of Instagram.
For reprint and licensing requests for this article, CLICK HERE.
Prev Next