FASTPAY ADAPTS APPAREL INDUSTRY MODEL FOR WEB COMPANY CLIENTS.
Lender Takes Borrowers' Receivables Into Account
Monday, June 25, 2012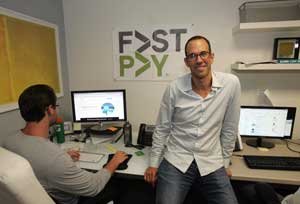 David Segura's online marketing company was on life support less than a year after launching.
When Bank of America rejected his request for a $250,000 loan, Segura had to search desperately for a way to pay his vendors while working on viral video campaigns for Sears.
In 2010, Segura stumbled upon a Beverly Hills company that was willing to advance $24,000 to Giant Media Inc. while holding $30,000 of his invoices as collateral.
Within 48 hours, the money was in Segura's account and Giant Media was able to pay its video producers.
The company that gave him the money is FastPay Inc. The three-year-old business operates with a twist on traditional factoring, which is common in the apparel industry, by providing upfront money to web businesses that need liquidity. That means FastPay advances money, based on a company's accounts receivable, often at about 80 percent of the total invoices.
Here's how it works: Say Giant Media has $100,000 in uncollected accounts receivable from one of its clients such as Acura, the luxury auto brand of American Honda Motor Co. Inc. FastPay, which holds on to the receivables, will fund up to 80 percent of them. Once Acura has paid the full amount, FastPay sends Giant Media the $20,000 balance but keeps what amounts to a monthly interest of 1 percent to 2.5 percent.
"It's not insanely expensive, but it's not cheap either," Segura said. "In reality how many choices do we have?"
Web companies use the service because financial institutions don't typically loan money to online businesses with uneven cash flows. Jed Simon, FastPay's chief executive said his company is not a bank or a financial institution.
"We really are providing money that is already owed," Simon said. "Our client sells us an invoice and if the brand pays we charge a small fee and then everyone's even."
Simon said that because FastPay only funds companies that work with major brands, the business is minimizing risk. So far, all of its loans have been repaid.
Because of that track record, FastPay's own cash flow is getting a boost. The company secured a $25 million investment last week from Wells Fargo Capital Finance and SF Capital Group, money it will use to add to its sales force and expand its business with web startups. The company has 10 employees and offices on Wilshire Boulevard.
Money matters
FastPay was founded in late 2009 with $500,000 in seed capital from Simon, Arden Realty founder Victor Coleman and former hedge fund manager Jon Glaser. The trio invested a second round in the low millions soon thereafter.
Prev Next