Sunset Strip Has Room for Marriott
Hotelier loses reservations about luxury brand.
Monday, June 11, 2012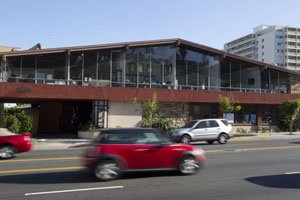 L.A.'s Westside hotel market is one of the hottest in the country, with hip clientele, top room rates and low vacancies. Now, Marriott International Inc. wants a piece of it.
The Bethesda, Md., hospitality giant is planning to build a luxury hotel with condos, a nightclub, and rooftop pool and bar on West Hollywood's Sunset Strip.
The lodging would be the first West Coast location of its Edition luxury chain, a stalled brand that it is relaunching to compete with rivals such as the W and Standard, which aim for young and affluent visitors.
The company is acquiring the development rights to what had been known as the Sunset Doheny Hotel from Malibu's Weintraub Real Estate Group. It plans to build an 11-story, 190-room hotel plus some condos in its place.
Last week, the West Hollywood City Council approved modified project plans for the 9040-9056 Sunset Blvd. site, and Marriott is seeking an architect so it can submit designs next year and begin construction shortly thereafter.
The importance of the hotel to the company is highlighted by the fact it is departing from its typical business model, in which it operates hotels built and owned by third parties.
"This is a very unusual move for the company and it shows their dedication," said Jim Arnone, a Marriott attorney, at the June 4 City Council meeting. "The reason Marriott is putting tremendous resources into this now is this is a tremendous brand that they know will succeed."
About four years ago, Marriott created the Edition brand with boutique hotelier Ian Schrager in an effort to compete with Starwood Hotels & Resorts Worldwide Inc.'s W hotels and other such brands. At the time, it had planned to open 100 Editions worldwide over the next decade. But the recession struck and its first Edition, in Waikiki, Hawaii, closed down. It now only operates a single location of the brand – a 78-room hotel in Istanbul, Turkey, that opened last year.
But over the last two years, Marriott has been acquiring other properties and reaching agreements worldwide to relaunch the brand. It has announced plans to spend at least $800 million to develop Editions in London, New York and Miami in the next two years. The West Hollywood hotel is among three other locations that would open soon after, perhaps as early as 2015.
The hotels will be luxury boutiques, individually designed for their locations and operated at four-star quality levels.
Prev Next