Retail Touch-Up
United Future pitches interactive screens for storefront windows.
Monday, June 11, 2012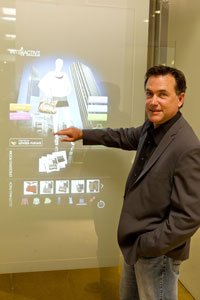 Touch-screen technology is about to move from consumers' pockets to stores. Come the holiday season, you may be able to touch a glass storefront window at an apparel shop, mix and match clothes on a virtual mannequin and buy an outfit – all from the sidewalk.
United Future is in talks with major retailers and brands to bring this technology to stores in the next few months. The Culver City company is using touch-screen glass to introduce interactive storefronts that allows retailers to instantly change virtual displays and gives shoppers more control over purchases.
"What if you could actually have something in the window that you can change in every store around the country, right then," said Scott Holmes, the company's co-founder and president. "What we've done through this experience is enable all of those things to come together."
Here's how it works: Shoppers touch a glass screen, choose and drag virtual clothes onto a mannequin, pick an augmented reality background to display the clothes, adjust basic body type, decide what they like and buy it. Shoppers can use the technology to choose clothing and make purchases in department store windows or inside the store.
For retailers that sign on for the touch screens, which United Future plans to install at stores before the Christmas shopping season, the company will set up its glass, a layer of film that sticks to the glass, a projector and a powerful laptop for about $11,000.
"The relationship with the consumer is changing because the consumer expects more," said Holmes, 47. "With more shopping going online, malls, retailers, physical locations, need to find new ways to attract and engage consumers at the retail level."
The company was co-founded in 2005 by Holmes and Kris Matheney, the director of operations. The two previously worked together in digital marketing during the dot-com boom.
United Future is a subsidiary of digital advertising agency Wong Doody Crandall Wiener and shares its office space in Culver City. Secondary offices are in Seattle. United Future's software was developed in an incubation department in the L.A. office.
The company, which has 28 full-time employees, projects revenue of $6 million to $8 million this year.
Wider use
United Future debuted its interactive touch-screen technology in November at the L.A. Auto Show in a wall display for Fullerton's Yokohama Tire Corp., projecting live Twitter messages with pictures on a massive screen above the booth.
Prev Next