Sky's the Limit for Data-Tapping 'Smart Irrigation'
Controller from Cyber Rain checks weather while running system.
Monday, June 4, 2012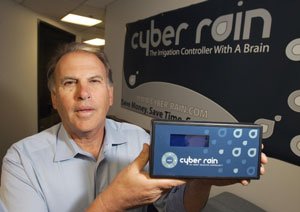 It takes a lot of water to keep Los Angeles County's chaparral green.
Landscape watering accounts for as much as 60 percent of household water use, and a lot of it winds up as runoff.
As a result, an Encino company has been trying to help people save water.
And it's just won a stamp of approval from the U.S. Environmental Protection Agency. Plus, a new state law mandates water saving. So Cyber Rain believes it is poised to build its client base.
The five-year-old company claims its can shave up to 40 percent off water bills. Cyber Rain produces a device, called a controller, that prevents overwatering by shutting off sprinkler systems on rainy days and adjusting watering schedules according to online weather forecasts and historical weather data stored in a computer program. The controller can be installed on site and plugs into an irrigation system's existing timer wires.
It's part of a trend called "smart irrigation" and is available for both residential and commercial buildings.
"It adjusts water level based on the actual weather," said James Krug, the company's chief executive.
Cyber Rain clients can also use their home computers to customize soil, terrain, plant and other property data and wirelessly send that info to the controller.
Cyber Rain last month became the first company to receive the EPA's "WaterSense" certification, which makes it eligible to bid for federal contracts. Thanks to the certification – and a California law requiring local ordinances limiting landscape water use – the company is preparing to expand.
The law, AB 1881, took effect in January and requires state construction projects to incorporate smart irrigation.

Krug believes both the law and the certification will help build the company.
"We think it's going to be a huge (sales) driver," Krug said. "The company is moving rapidly toward breaking even and we're very confident what the future holds."
Krug hopes to expand from 13 employees to about 40 by 2014. He said the company had record sales in March and April, and he predicts revenue of more than $2 million this year, although he did not say how much of an increase that would be.
Cyber Rain operates in 50 countries. In Los Angeles, the company's main clients are large communities. The company services the Park La Brea apartment complex near the Miracle Mile; Watt Plaza in Century City; and school districts in the Claremont, West Covina and Calabasas areas.
For reprint and licensing requests for this article, CLICK HERE.
Prev Next