Deal Makers
Santa Monica web firm Savings.com won't discount value of new ownership by Cox Media.
Monday, July 16, 2012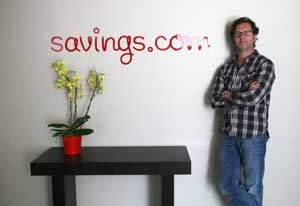 "She would drive 10 miles to save five cents on gas," Bendele remembered. "It's not about being cheap, it's being smart with your money so you live a better life."
He said this upbringing taught him how to be thrifty and gives him a personal understanding of Savings' customers.
Bendele spent four years working as a marketing executive at online florist Teleflora then left in 2007 to start Savings with Per Petersen, chief executive of Santa Barbara technology incubator Estalea. The company began with $150,000 from Petersen and a group of angel investors.
Last year, a mutual friend introduced Bendele to Cox Media and the two companies decided to offer select Savings' deals on the Valpak site. That led to the sale.
The money from the company's sale to Cox went mostly to Petersen and the other investors; Bendele is now a minority owner.
Savings' competitors said the sale illustrates peoples' desire for deals.
Alexis Caldwell, director of affiliate and partner marketing for Santa Monica online marketing site SurfMyAds.com Inc., said the soft economy has helped the space grow rapidly and the Savings move "validates the innovative culture of our industry."
Bryant Quan, chief executive of Las Vegas coupon site Slickdeals, said the purchase helps raise consumer awareness.
Mark Douglas, chief executive of Culver City Internet marketing company Steelhouse Inc., said the biggest hurdles facing Savings could be convincing people of the value of cut-rate products and the perception that coupons devalue a product.
"Coupons do have a perception of not being associated with products that are as premium," Douglas said. "There's other ways to find deals other than coupons."
Prev Next