INTERNET: PROJECT WITH EQUUS TO EASE DELIVERY OF MOVIES TO CUSTOMERS.
Netflix Taps Server Maker For Role in Film Business
Monday, July 9, 2012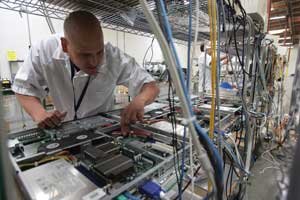 Customers of Netflix Inc. are downloading more and more movies. So the Los Gatos film distribution giant is changing the way it delivers those movies.
As a result, Equus Computer Systems, a local division of a Minnetonka, Minn., hardware company, is building computer servers – lots of them – for Netflix. The servers will be loaded with Netflix movies and placed at Internet service provider companies. That way, Netflix doesn't have to pay other companies to transmit its movies for online distribution. The change means that Netflix saves bandwidth and money.
The deal, which the two companies reached after discussions that took place last year, was big enough to lead Equus to move its local plant from Pomona to the City of Industry last month. The new 102,000-square-foot facility is more than double the size of its previous site.
Equus isn't just building hardware for Netflix here, it's also making servers for ServersDirect.com. The plant has the capacity to manufacture 250,000 of the systems annually. The new location employs about 100.
It's a significant addition to City of Industry's economic life. The city has lost 15,000 jobs in the past four years. Manufacturing once accounted for 80 percent of the city's companies; today, it's less than 20 percent.
"We're happy to have somebody come into the city that's actually doing some manufacturing again," said Don Sachs, executive director of the Industry Manufacturers Council, which functions as a chamber of commerce for the city.
About a half-million manufacturing jobs have been lost in Los Angeles County over the last 22 years as companies have moved out of state and overseas, and as factories have automated.
Equus servers will be shipped to such Internet service providers as Time Warner Cable Inc., which stream Netflix films and TV shows directly from regional data centers to customers' televisions and computer screens.
John Pollock, Equus' vice president of marketing and product management, said the company moved to City of Industry because it needed more space to build and develop the servers.
"It really does buck the trend we're seeing in manufacturing," Pollock said. "We're not just installing components or turning screws."
He said the goal of the operation was to put Netflix's most popular movies on the servers in order to save the company money on what it has been paying for use of Internet wiring, or bandwidth.
"It's the most popular shows (and movies) that are being streamed on average," Pollock said. "Nine times out of 10 that content will be saving network bandwidth."
Prev Next