Tech Support Firm for Apps Appreciates Backing
Startup LP Mobile hopes new parent can spark sales.
Monday, July 2, 2012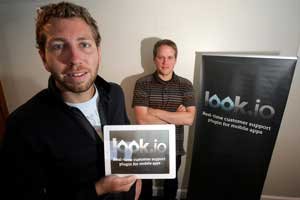 "There was really no good way for customers to connect with the company they were working with over mobile, except a phone call," Miller said.
The company was co-founded by Miller, Marc Campbell and Joe Toscano, who had worked in startups and mobile development. They used their own money to get started and rented office space in Santa Monica.
Campbell, the architect behind product design, said the trio saw that customer service for mobile apps was an area they could explore.
"We tried to find a way to make it easier to get that feedback and see what's going on in the device," Campbell said.
The company took first place at the L.A. Startup Weekend competition last summer. The event brought it to the attention of investors and local accelerators. The company received $200,000 in funding from a half-dozen angel investors and in December became startup accelerator Amplify.LA's first tenant.
Jeff Solomon, managing partner at Amplify.LA, said the company's mobile innovations initially made it attractive to the accelerator.
"There's no question that there's going to be more transactions on mobile," Solomon said.
Those innovations made the company attractive to LivePerson as well, he said. Instead of having to develop technology from scratch, LivePerson has now filled in that gap. He sees the integration of the two companies as a great fit.
"A lot of times companies buy companies and they're not sure how they can integrate," he said.
Josh Hartwell, chief executive at Santa Monica mobile game company Mobile Deluxe, predicts that LP Mobile's service will inspire copycats, so the company will have to stake out its territory quickly.
"Right now I think they have a head start over their competitors," Hartwell said. "It's imperative for them as a new entity to define those new innovations."
Sina Mobasser, co-founder of Santa Monica's TestMax, has used LP Mobile's service for the past year. He said it has helped convince customers to purchase his company's $1,000 LSAT app. Even though he's been getting the service for free, he's ready to become a paying customer now.
"We would easily pay for it," Mobasser said. "This is the first product of its type to offer live support in an app. Users have never seen anything like it."
Prev Next