Investors Shell Out $75 Million to Join Fast-Fashion Site
Monday, August 13, 2012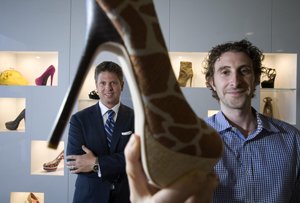 Online fashion clubs also offer access to a team of fashion experts who are on call 24 hours a day. JustFabulous employs 50 stylists in El Segundo and 90 more at a Charlotte, N.C., center, who offer members fashion advice over the phone or through the website.
There also is an inherent community aspect to this kind of shopping that fits well with the Internet's increasingly social nature. JustFabulous currently has 1.1 million followers on Facebook; ShoeDazzle has more than 2 million.
The communities have developed enough so that last year a group of 30 JustFabulous users decided on their own to plan a meeting in Texas. Some even came from out of state. When executives heard about the gathering, they flew in some stylists to give sneak peeks at upcoming lines.
Direct to customer
An essential part of the business model of the clubs also is the removal of third-party retailers. JustFabulous' designs are manufactured at factories in China and imported to a stateside distribution center in Louisville, Ky., where they are shipped directly to customers.
The personal knowledge that fashion clubs have about their members gives them a good indication of which product to order, which eliminates the amount of overstocking that plagues brick-and-mortar retailers.
"We know their shoe size and dress size, so it takes the sizing out of the equation when you're buying inventory," Goldenberg said.
Marketing also has become a central part to selling the online brands. JustFabulous spends more than $10 million on television, radio and online advertising, which has propelled its growth. That made it an appealing investment choice for Rho Capital, a Palo Alto venture capital firm that focuses on online investments and led the recent $75 million fundraising round.
"What we saw was a company that completely delivered on its plan," says Mark Leschly, a managing partner at Rho, who will also join the board at JustFabulous. "It doesn't happen that often that people beat expectations, which really impressed us."
Other high-tech venture capital firms joined the funding round, including Matrix Partners in Waltham, Mass., and Technology Crossover Ventures in Palo Alto. Matrix led JustFabulous's first round of funding in 2011, which raised $33 million.
The fashion clubs have their challenges, though, and the largest one ironically is the attractive pricing model. While flat fees might pull in consumers, they can also box in a company. If manufacturing costs rise, online fashion clubs are faced with a decision: eat the higher costs or raise the monthly fee.