Investors Shell Out $75 Million to Join Fast-Fashion Site
Monday, August 13, 2012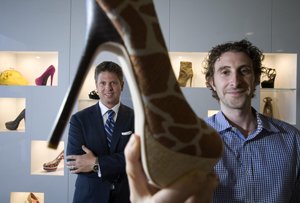 Joining the club
Goldenberg and Ressler have online bona fides. Goldenberg's high school video gamers site and a fitness site Ressler owned were bought out by Intermix Media Inc., the parent of pioneering social media site Myspace. The pair became co-chief executives at Intermix, which was sold along with Myspace in 2005 to New York-based News Corp.
The duo stayed less than a year at Rupert Murdoch's company before leaving to start Intelligent Beauty, an El Segundo company that built up a sizable business with Sensa, a weight-loss brand, and Dermstore, an online skin care retailer. JustFabulous is a portfolio company of Intelligent Beauty.
Their decision to start JustFabulous in 2010 came a year after ShoeDazzle and Beachmint, a Santa Monica-based online retailer, began their shoe sales sites. All of that came after the success of online shoe retailer Zappos.com Inc., acquired by Seattle's Amazon.com Inc. in 2009 for close to $1 billion when the market for online clothes shopping began to take hold.
"Zappos really paved the way for women buying shoes online," Ressler said. "We took it to the next level."
Fashion clubs operate under the same premise.
First, a prospective customer fills out a fashion survey that determines what style dresser she is, and then the site sends out monthly fashion e-mails with shoe, handbag, and accessory recommendations tailored to her tastes. At the beginning of the month, a subscriber has the option to pay a $39.95 membership fee – the same for all three sites – which lets her choose any recommended item. A member also can skip the payment or buy more than one item, all priced at that same $39.95.
The standardized pricing model was designed to take any painful fashion compromises because of cost out of the equation.
"Everything that we sell, you know that price point and you're not thinking about price when you shop," Goldenberg said. "You're just thinking, 'Do I like the item?' "
The idea is to get a member looking at the site regularly and browsing through the selection. According to figures from JustFabulous, the average member checks on her recommendations 25 to 30 times a year.
JustFabulous's products are all one in-house brand created by the Simmons-led design team. She came to the company on the heels of her success at Baby Phat, an urban fashion line that was sold to Cincinnati-based Macy's Inc. Simmons was not made available for comment.