L.A. Forges Healthier Bonds With Biomed Industry
Firms no longer leaving area after being acquired by larger rivals.
Monday, April 16, 2012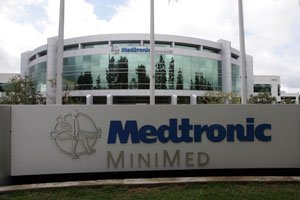 It's an often-heard lament among L.A.'s biotech boosters: The best and brightest of the area's biomedical startups reach a certain size and level of success only to be snapped up by a larger competitor. And the technology, jobs and growth are spirited away.
There are grounds for that contention. Two years after Summit, N.J., Celgene Corp. closed its nearly $3 billion acquisition of West L.A. biotech Abraxis BioScience Inc., there's not much left of the company's operations at its old Wilshire Boulevard headquarters. And no sign at all at the former Westwood offices of cancer drug developer Cougar Biotechnology Inc., which was sold to New Brunswick, N.J., pharmaceutical giant Johnson & Johnson for nearly $1 billion in 2009.
But sometimes, innovative local companies get bought and stay.
Case in point: St. Jude Medical Cardiac Rhythm Management in Sylmar. St. Jude Medical Inc. of St. Paul, Minn., bought the successor to Pacesetter Systems Inc. several years after founder Al Mann sold Pacesetter to Berlin-based conglomerate Siemens AG in 1985. It employs 1,840 people locally who develop, make and market high-tech pacemakers and related devices. It's No. 2 on the list of largest biotech/biomedical companies in Los Angeles, following mainstay Amgen Inc. in Thousand Oaks, still No. 1. (See page 15.)
No. 3 on the list is another acquired company started by Mann. Medtronic Inc. of Minneapolis acquired insulin pump maker MiniMed in 2001. Now known as Medtronic Diabetes, the Northridge division serves primarily as a research, development and marketing facility employing 1,350 people.
This year, the Business Journal reconfigured its annual list of largest biomedical companies to include not only those that are locally based but also subsidiaries or divisions of other companies.
With these new criteria, the list indicates that companies outside Los Angeles are playing a big role in the local economy and the local biotech industry is larger than at first glance. The top 20 companies on this year's list employed more than 14,700 workers, while last year's top 20 employed less than 9,400.
"There is just great talent here in greater Los Angeles to support our innovation strategy," said Jeff Hubauer, vice president of operations at Medtronic. "It's become our anchor here. When you have all that great talent and it is core to the strategy, we're committed here for the long run."
Another example of a company started in Los Angeles and acquired by an outside competitor is Valencia's Boston Scientific Neuromodulation Corp. The No. 5 company employs 770 people who develop and market implantable neurological devices to treat chronic pain, incontinence and other ailments. It was once part of Advanced Bionics LLC, the No. 8 company, which is also based in Valencia and makes cochlear implant devices. Founded by Mann, Advanced Bionics is now owned by Sonova Holding AG, a Stafa, Switzerland, hearing-aid company.
Prev Next