A Lot Left
Hollywood slowdown leaves movie cars parked
Monday, August 23, 2010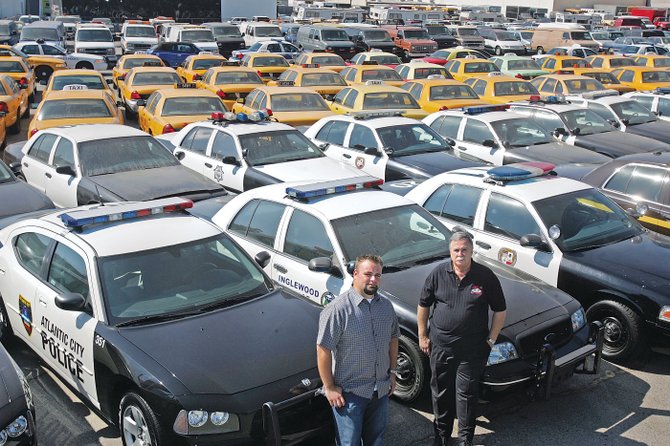 Remember all those cars in movies and TV shows? The ones that used to fly over drawbridges, careen wildly around the corners of city streets and crash through police barricades?
There just aren't as many squealing tires in Hollywood today. Lower budgets, fewer productions, labor unrest and a tepid economy have slowed the movie-car business to a sputtering crawl.
As a result, two of Hollywood's largest movie-car suppliers, which provide the vehicles used for TV and films, merged their operations earlier this month to save money. As a result, they hope to survive what the owners predict will be a prolonged downhill ride.
Of course, the slow times have hurt many small companies that do business with the major studios across Los Angeles County. Caterers, public relations agencies and even shipping companies have lost revenue and laid off workers.
But movie-car companies have crashed especially hard. That's because of the high capital requirements needed to buy, maintain and even park automobiles, and because of the swoon in demand for cars on camera. Business is down about 40 percent since 2006.
That's why Cinema Vehicle Services in North Hollywood, founded in 1976, and Hot Shot Picture Cars in San Fernando, started in 2008, have combined operations under the name Cinema Vehicle Services.
Steve Simons, former president of Hot Shot and now co-president of Cinema Vehicle Services, said it made sense to concentrate on how to best serve their studio customers rather than fight over them.
"We were both strong companies, but we were competing for the same business," Simons said. "With things as slow as they are, the customer base is still shrinking. Now there is only one piece of pie left, so it's easier to eat that piece with one fork instead of two."
Ray Claridge, the other co-president, blames the extended slowdown on labor stoppages and runaway production, or TV shows and movies that film far away from Los Angeles. He traces the turning point to the 2007 writers strike.
"Things fell off a cliff," Claridge said. "No one has recovered from that."
The newly formed company has almost 1,200 vehicles, ranging from jalopies to exotic race cars. To eliminate some duplicates, the inventory will be trimmed to about 900 vehicles. The company will store the cars on two lots totaling 12 acres in North Hollywood.
The main savings from the merger will come by consolidating property leases as well as avoiding duplication of administrative, insurance and logistical costs.
For reprint and licensing requests for this article, CLICK HERE.
Prev Next